SOFA CHICAGO 2010
4 pm Saturday, November 6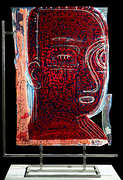 Artist Reception with the German Consulate General Chicago VIP Lounge, Navy Pier Festival Hall:
"Made in Germany" - German Contemporary Artists
Join the German Consulate General Chicago for a festive reception highlighting the works of German artists at SOFA CHICAGO 2010 and Gallery New Art Glass & Photography. Enjoy wine and appetizers with Consul General Onno Hückmann, German Consulate General Chicago, who welcomes guests including members of the Goethe Institut.

Nadania Idriss, owner of New Art Glass & Photography, brings her Made in Germany show to SOFA CHICAGO with the works of eight established and emerging glass artists Simone Fezer, Jens Gussek, Ursula Huth, Susanne and Ulrich Precht, Gerhard Ribka, Sebastian Richter and Gerd Sonntag.
Enjoy the opportunity to meet German artists attending SOFA CHICAGO 2010 including Bernd and Hanne Munsteiner, Peter Schmid, Sue Barry and Christian Streit, all represented by Aaron Faber Gallery, New York; and Julius Weiland, represented by Litvak Gallery, Tel Aviv.
Photo:
Gerd Sonntag , "Head", glass, presented by New Art Glass & Photography, SOFA, Chicago 2010